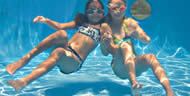 Home
ABOUT TUFF POOLS
Rectangle Pools
Round Pools
Specialty Pools
POOL ACCESSORIES
ASSEMBLY / INSTALL
TUFF POOL WARRANTY
Ladders and Fencing
FIND A DEALER
USER MANUALS
CONTACT US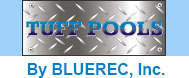 The rectangular sizes in the TUFF POOL line have the most durable frame design available today. Tuff Pools offer a completely inter-connected frame, which lock in the top, sides, and bottom rails. Our absolute commitment to quality products and service along with cutting edge innovation, is how Tuff Pools is REVOLUTIONIZING THE ABOVE GROUND INDUSTRY!
Our round TUFF POOL design is the only design like it on the market. With only two metal hardware parts, a top rail and a leg, our round pool is simple to install and is extremely durable! Our round Tuff Pool line offers you the most pool for your money. Tuff Pools offers a pool that has been a leader in quality and design since 1991.
TUFF POOLS is the above ground pool leader in design and innovation and offers a variety of unique items exclusive to Tuff Pools. Tuff Pools is committed to offering additional value to your swimming experience. Over the last few years Tuff Pools has introduced unique items such as the View Pool, Tuff Stone, Swim Fit System, and much more...